The Spook's Secret

The first edition cover of The Spook's Secret published by Bodley Head

Author

Illustrator

Genre

Horror, Chiller, Children's Book, Mild Fantasy, Weird Fiction

Publishers

Bodley Head (UK Hardback
Red Fox (UK Paperback)
Greenwillow Books (US Edition)

Release Date

July 6th, 2006

Place in the series

Book One

Pages

Preceded by

Followed by
The Spook's Secret
is the third novel in the children's book series
The Wardstone Chronicles
written by English author
Joseph Delaney
.
Book Description
As the weather gets colder, the Spook announces that it's time to move to his winter home on Anglezarke - a blaek, forbidding place, close to the dark with a deep cellar full of bound witches and boggarts. Once There, Tom finds himself discovering more and more about his master's past and the identity of a mysterious visitor who, it seems, is the Spook's sworn enemy. Is the Spook's past catching up with him? And how much danger will Tom be in if his master's secrets are revealed?
Publishing Information
The novel was originally published on July 6th 2006 by Bodley Head in hardback but since then it has been released in paperback (published by Red Fox) and reprinted in a new-style cover.
The book was also released in the US as The Last Apprentice: Night of the Soul Stealer due to 'spook' may be viewed as a racist term to some of the American population.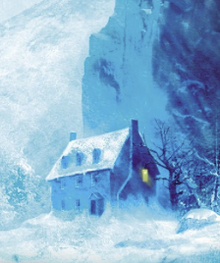 Book Chapters
An Unexpected Visitor
Farewell to Chipenden
Home
The Winter House
What Lay Beneath
A Nasty Piece of Work
The Stone Chucker
The Stone Chucker's Return
Intimations of Death
Bad News
Mam's Room
Necromancy
Trickery and Betrayel
Snowbound
Down to the Cellar
Up to the Attic
Home Truths
The Chapel of the Dead
The Round Loaf
Golgoth
The Trap
For the Best
Back to Chipenden
Chapter One: An Unexpected Visitor
In the opening chapter of The Spook's Secret we learn that the Spook has been considering moving to his winter house on Anglezarke moor for the winter and that Tom isn't too thrilled about going, mainly because of the coziness of the Spook's country house and Alice's company. The Spook's bell down in the village alerts spook's business and the Spook sends Tom down to see who requires their assistance. Tom expects to see a farmer's lad down by the bell, but is suprised when he comes across another Spook. As Tom has only heard of one other spook in the County, he asks the man if he is Mr Arkwright, who simply replies "Who I am is none of your business, boy. But your master knows me well enough!". With that, he hands Tom a letter addressed to John Gregory. He says he will see him down Anglezarke and leaves. Tom returns to the house and the boggart lets out a ear-splitting roar as though there is a threat to the home. When Tom gives the letter to the Spook who reads it and throws it in the fire in fury and immediately announces they will be leaving early for Anglezarke in the morning and that Alice will be living with a farmer and his wife in Adlington during his and Tom's stay. Alice is unhappy with the idea and stomps off to bed. When Tom asks, the Spook reveals that the man was one of his failed past apprentices called Morgan who holds a grudge against him.
Chapter Two: Farewell to Chipenden
Tom tells Alice about the Spook's relaionship with the Lamia Witch Meg Skelton he had read about in one of Mr Gregory's old journal's. He also speculates that Meg is living in the Spook's winter house on Anglezarke, this is when Alice tells him that Meg is probably locked up in a pit. Before leaving for Angelzarke Tom thanks the Boggart for all of the nice meals it has made for him since the beginning of his apprenticeship which the Boggart replies with a fragment of the letter which the Spook threw in the fire, which read: "Give me what belongs to me or I'll just sorry you were never born. You can start by . . .". At this Tom suspicious about Morgan.
Chapter Three: Home
The Spook, Tom and Alice visit Tom's home on the way to Anglezarke so the Mr Gregory can get the final payments for taking Tom on as his apprentice. Whilst there, the Spook and Alice wait outside because Jack and his wife Ellie don't like spook's business. Jack tells Tom that their Dad's health is worse off than before. When Tom enters, Mam is sitting in her rocking-chair, she has been expecting Tom to visit. They discuss Tom's apprenticeship so far and his Dad's health. Tom visits his father, who is resting in bed, who tells Tom that from all of his seven sons, he believes Tom will turn out to be 'the best of the crop'. During this, Tom notices an unusual flowery smell on his father. Later, Mam tells his it is something he has inherited from her called 'imtimations of death', he is able to smell the approach of death. Tom bids goodbye and leaves with the last payment for his apprenticeship
Deaths
JordanLangston 05:36, July 12, 2010 (UTC)
Ad blocker interference detected!
Wikia is a free-to-use site that makes money from advertising. We have a modified experience for viewers using ad blockers

Wikia is not accessible if you've made further modifications. Remove the custom ad blocker rule(s) and the page will load as expected.