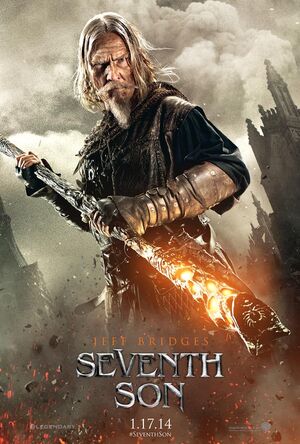 The Seventh Son is a supernatural film based on The Spook's Apprentice. It will be directed by Sergei Bodrov and it will star Ben Barnes, Jeff Bridges and Julianne Moore.
☀It is loosely based on the novel The Spook's Apprentice (titled The Last Apprentice: Revenge of the Witch in the US) by Joseph Delaney. The story centers on Thomas Ward, a seventh son of a seventh son, and his adventures as the apprentice of the Spook.
Plot
For years, the local spook (Jeff Bridges) has been keeping the County safe from evil. Now his time is coming to an end, but who will take over? Many apprentices have tried... Some floundered, some fled, some failed to stay alive. Just one boy is left. Thomas Ward (Ben Barnes). He is the last hope. But does he stand a chance against Mother Malkin (Julianne Moore), the most dangerous witch in the County?"
The story is actually based in part on the old folklore idea that the seventh son of a seventh son would have special powers (magic powers, healing powers or more)if he comes from an unbroken line with no female children born between, and be, in turn, born to such a seventh son.
Another Take on the plot is also here:
In a time long past, an evil is about to be unleashed that will reignite the war between the forces of the supernatural and humankind once more. Master Gregory (Jeff Bridges) is a knight who had imprisoned the malevolently powerful witch, Mother Malkin (Julianne Moore), centuries ago. But now she has escaped and is seeking vengeance. Summoning her followers of every incarnation, Mother Malkin is preparing to unleash her terrible wrath on an unsuspecting world. Only one thing stands in her way: Master Gregory. 
In a deadly reunion, Gregory comes face to face with the evil he always feared would someday return. Now he has only until the next full moon to do what usually takes years: train his new apprentice, Tom Ward (Ben Barnes) to fight a dark magic unlike any other. Man's only hope lies in the seventh son of a seventh son.
Cast
Gallery
Posters
Promotional Stills
Exclusive Concept Art
Heroes Set
Land Set
Monsters Set
Videos
Trailers
Interviews and Featurettes
Ad blocker interference detected!
Wikia is a free-to-use site that makes money from advertising. We have a modified experience for viewers using ad blockers

Wikia is not accessible if you've made further modifications. Remove the custom ad blocker rule(s) and the page will load as expected.