Joseph Henry Delaney

Joseph Delaney at the Salon du Livre (Paris, France) in 2008.

Born

N/A

Occupation

Full-time writer

Stand-alone novels

Spin-offs

Gender

Male

Also known as
Joseph Delaney is the author of the entire series of Spook's Books, spinoffs and information books.
Brief Description
Joseph Henry Delaney (Pronunciation: Dee-Lay-Nee) also known as J.K. Haderack is an English full-time children's author. Joseph Delaney is most noted for his creation The Wardstone Chronicles but has also been the author of a fantasy epic Mercer's Whore which he wrote under the pen-name J.K. Haderack. His first novel in the series is currently being adapted into film
Film adaptation - Seventh Son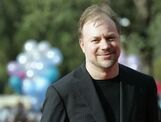 On May 23, 2008, Joseph Delaney announced on his author blog that his first book in
The Wardstone Chronicles
,
The Spook's Apprentice
will be adapted into film. Joseph Delaney sold the rights for production to Warner Bros. Pictures. At this point, the film was scheduled for release in 2009.
Before long, it was revealed that Kevin Lima, director of the 2007 Disney children's film Enchanted will be the director of the upcoming film adaptation. Delaney's reaction to this was "I'm thrilled and delighted to hear that the creator of the excellent Enchanted is to direct the film adaptation of my book. It's brilliant news!". Kevin Lima, is a fan of The Wardstone Chronicles. As well as this, Matt Greenberg, writer of several different screenplays for horror films, including Stephen King's 1408, will be writing the screenplay for the film adaptation. But for this, no other news has emerged concerning the film.
It was released in 2014, and was directed by Sergei Bodrov, starred Jeff Bridges and Ben Barnes, and has been a box office success. The film did not follow the exact story of the books, however.
Spin-offs
Bibliography
Stand-alone novels
The Wardstone Chronicles
The Starblade Chronicles
Spin-offs
Early life
Career
Life as a writer
Personal life
See also
JordanLangston 05:01, July 14, 2010 (UTC)
Ad blocker interference detected!
Wikia is a free-to-use site that makes money from advertising. We have a modified experience for viewers using ad blockers

Wikia is not accessible if you've made further modifications. Remove the custom ad blocker rule(s) and the page will load as expected.