Chipenden is one of the main locations in the Spooks series
Description
The village is in Lancashire, or the County, as it is referred to in the book series.
Chippenden is thought to be a rather small village - with less than 60 residents at most.
Outside of the Spooks universe, there exists a real village in the same area of where Chipenden is supposed to be - the village is called Chipping.
Notable residents
John Gregory (or the Spook, a protector for the people of the County - a servant of the light)
Tom Ward (or the Spook/Apprentice - a servant of the light)
Bony Lizzie - for a time, though she was forced out by some of the men from the village.
Alice - daughter of Bony Lizzie, she lived with Gregory and Ward for a time.
Services
In the village, services such as a bakery, a greengrocer and a butcher exist, and are frequently used by village residents and the Spook, John Gregory, and his apprentice, Tom Ward.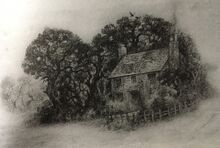 Presence of Spooks
In the village, the Spook, John Gregory, owns his summer house. This house has been passed down from generation to generation of Spooks, and made its way to Tom Ward following the death of Gregory.
Ad blocker interference detected!
Wikia is a free-to-use site that makes money from advertising. We have a modified experience for viewers using ad blockers

Wikia is not accessible if you've made further modifications. Remove the custom ad blocker rule(s) and the page will load as expected.